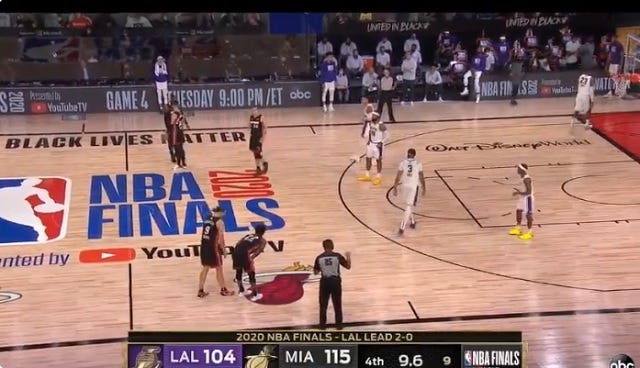 I'm not a scientist, but I think if you're a very healthy L.A. Lakers team and you lose Game 3 of the NBA Finals to a Miami Heat squad missing Bam Adebayo and Goran Dragić, you might want to go see the wizard and ask for some killer instinct.
If you're the Chicago Cubs, you may want to ask yourselves what the point of the $44 million difference between your payroll and the Miami Marlins' was, since your postseason had a little bit too much in common with a bad CFL team's offence: y'all went two-and-out.
Speaking of those Marlins (who have literally never lost a postseason series), it's awfully interesting that they (27th), the Rays (28th), and the A's (25th) are still in the playoffs while the Red Sox (3rd), Phillies (5th), Mets (6th), Giants (8th) and Nationals (11th) didn't even make the postseason. Are we finally getting back to Moneyball? Gosh I hope so, if only because it makes lives infinitely more stressful and embarrassing for baseball's big spenders who have to explain to the media and their fanbase why, for instance, a team with a .433 winning percentage is paying Anthony Rendón $26 million a year.
This has been MoneyRant™ with @combatdavey. Tip your servers. — DJ
#warmup
Due to the border closure, Toronto FC is playing its home games at UConn's football stadium, just across the river from where the Hartford Whalers used to play. So when the "home team" scores, the goal song is the old Whalers standard, Brass Bonanza. Somewhere, Mike Liut is smiling.
In his last two games, Cowboys QB Dak Prescott has passed for 974 yards. In his last three games, he has thrown for 1,424 yards. Both of those are NFL records. But, since they suck, the Cowboys have gone 0-2 in those two games.
The Atlanta Hawks will honour Dr. Martin Luther King Jr. with an alternate jersey next season, which is more than you're doing.
#sandykoufacts
It's a well-known fact that Nolan Ryan has the most career no-hitters, so it's not surprising that he's also the co-leader in career one-hitters and two-hitters. In both cases the other pitcher is in the Baseball Hall of Fame and immortalized with a statue outside the ballpark in the city where they spent their entire career. Who are the two pitchers?
#sergeicluebov
After winning one in 2004, it took sixteen years for the Tampa Bay Lightning to win another Stanley Cup. There are five clubs whose longest stretch between two Stanley Cup victories exceed that span. Only one wasn't a member of the Original Six. Name the club.
#robertquhorry
Aside from LeBron James, only two other players have appeared in NBA Finals with three different clubs and were never coached by Phil Jackson. One is an active player, and the other is currently an ESPN analyst. Who are they?
#warrenstump
What current NFL head coach is the only defensive player to score two offensive touchdowns in one game?
#scoutingreport
It makes me feel really sad when they show highlights from old playoff baseball games with crowds going absolutely bonkers. The baseball itself is just as good but something crucial is undeniably missing.
— former Deadspin and current Defector guy Barry Petchesky opines on Twitter
I don't really see us having a "head" coach. KD could be a head coach, I could be a head coach.
— Kyrie Irving, who will have three 50-point games for the 43-39 Nets next season
#sandykoufacts [answer]
Bob Feller logged twelve one-hitters over eighteen seasons with the Cleveland baseball club. He likely would have added more to that total, had he not spent four years of his prime fighting in World War II. Walter Johnson amassed eighteen one-hitters in 21 seasons with the Washington Senators. Although he was never an Expo or a National, his statue stands outside the home plate gate at Nationals Park.
Fun fact: Sandy Koufax threw more no-hitters in his career (four) than one-hitters (two).
#sergeicluebov [answer]
In 1992, Mario Lemieux led the Pittsburgh Penguins to the championship. The Penguins did not win another Stanley Cup for 17 years, led by Lemieux's tenant at the time, Sidney Crosby.
#robertquhorry [answer]
Danny Green has appeared in the Finals as a Spur (2013, 2014), a Raptor (2019), and now a Laker. The other player is Kendrick Perkins, who was a key member of the Celtics' (2008) and the Thunder's (2012) championship runs, and appeared in one Finals game with the Cavaliers in 2015.
#warrenstump [answer]
The Tennessee Titans head coach with an open-door policy, Mike Vrabel, lined up as a tight end and caught two touchdown passes from Tom Brady against the Jets on December 26, 2005. He is also the career leader of the so-called "Fat Man touchdowns" with twelve in total.
#postscript
Some housekeeping:
I (DJ) am going to turn the existing "testing" group on Facebook into an actual Oddball page for you to follow (if only to make messaging easier) so please let us know (in the comments) if you want to be invited to it;

we are going to aim at getting a real live trivia show done via Zoom or Instagram Live (or whatever) ready for this month, so please let us know (in the comments) if you'd be keen on playing;

we always like to know how well you did on the trivia (before reading the answers) so please let us know (in the comments) how you did;

make sure to click the heart (if you liked this issue) because that helps us rank better on Substack which in turn helps us get more readers;

you don't have to share Oddball with your friends, enemies, and frenemies, but if you were writing a newsletter we'd share it with ours;

our son's name is also Bort.
Many thanks to Sandy Koufax, Sergei Zubov, Robert Horry, and Warren Sapp for being named their names. And thanks to Eddie Van Halen, who died today, for, among other things, "Panama."
DJ/JY