Going up like a crescendo
Does anybody even read the subtitles?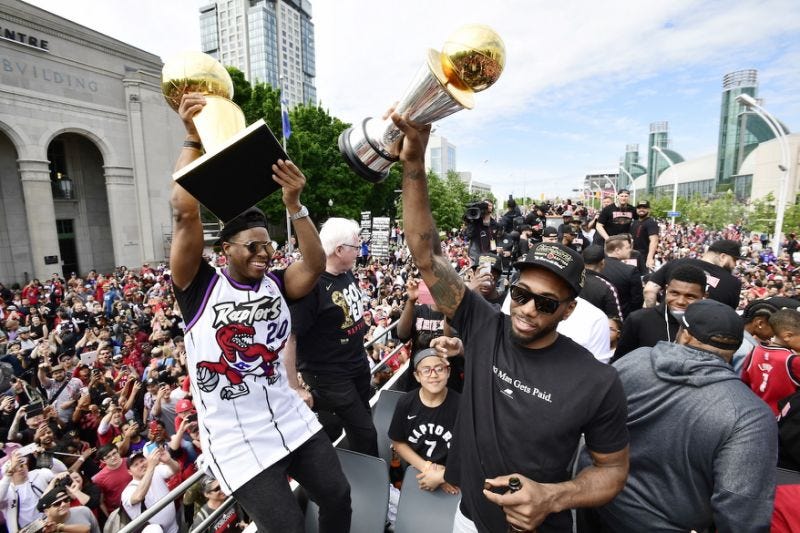 The Toronto Raptors are NBA Champions.
We could write a zillion words after that sentence and they wouldn't be as beautiful as that sentence — but that doesn't mean we're not going to try.
As we've mentioned before, we met on the internet, in a Blue Jays group on Facebook (and shortly thereafter, in the semi-associated Raptors group on Facebook), and for 99% of the time from, say, June 2016 and exactly right now, we have been internet friends. We've met and hung out precisely once — in Toronto in May, 2018 — and yet that hasn't mattered. We are friends, we have been friends. It is what it is, and has been.
THAT BEING SAID, it's plain to see that our mostly-online friendship has had two marked undercurrents: the Toronto Blue Jays and the Toronto Raptors. Those two professional sports teams (and deep cut Simpsons references) are and have been the substrate of our relationship, our friendship, and our co-authorship.
AS SUCH it is important to note that neither of us has, for one second, believed we were living in the real world since Draymond "I was born to be a villain" Green pulled a Chris Webber and all but guaranteed that the Toronto Raptors (deep breath) would (deep breath) win (we're hyperventilating right now) the NBA (one of us, we won't tell who, is still convinced he's in a coma, dreaming recklessly and beautifully) championship.
Like, the fucking parade happened and a couple million people showed up and it's still just sinking in.
Quotable Notables
"I really like the negative energy, the 'he hasn't played against nobody, he's too small, he can't shoot.' I love negative energy. It motivates me. It really doesn't bother me because my dad was my first hater, so if I can take it from him, I can take it from anybody."
— 2nd overall draft pick Ja Morant, a.k.a. Oddball's new favourite non-Raptor
Dan Questionberry
Albert Pujols just became the sixth player to hit 200 HRs for two different teams. Who were the other five?
2 Cities 2 Furious
The Tampa Bay Rays have been granted permission by MLB to explore splitting a season between Tampa and Montréal. It's obviously early days, but this news has us salivating for the possibility of more baseball on Canadian soil. As such, we've gotten totally ahead of ourselves and thrown together a list of potential names for the new team(s):
Les Tampatriotes

Les Expos Fringants

Los Rayas de San Juan

Montréal Ray-als (picture Jackie Robinson in a rainbow manta ray cap)

Montréaysal Tamparayries

Tampa Bay Raies

Tampa Bay Rés

Tampa Bay Youppis

Tamparayry Expos

Tampontréal Rays

Tampa Bay Angels of Anaheim, Orange County, California, United States, North America, Earth 2

Washington Nationals
Balking the trend
One of the best things about baseball is that you could watch it for decades and still see something you've never seen before. Recently Dodgers closer Kenley Jansen intentionally committed a balk. At the surface it sounds unwise, but there was a good reason behind it.
Jansen was trying to close out the game with a Cubs runner on second and two outs. Rather than risk having the runner steal signs, the Dodgers bench suggested that he balk in order to move the runner to third. The Dodgers were able to get the win. From an analytical standpoint, Fangraphs noted that the balk was a low-risk move (the Dodgers' win expectancy was already at >96% and didn't change as a result of the balk). And, as Jansen pointed out, "whether you give up a bloop or a base hit, the guy is going to score from second with two outs."
Hit the links
Dan Questionberry: Answer
Jimmie Foxx (Philadelphia, Boston)
Mark McGwire (Oakland, St. Louis)
Rafael Palmeiro (Baltimore, Texas)
Ken Griffey, Jr. (Seattle, Cincinnati)
Manny Ramírez (Cleveland, Boston)
Be the Marc Gasol you wish to see in the world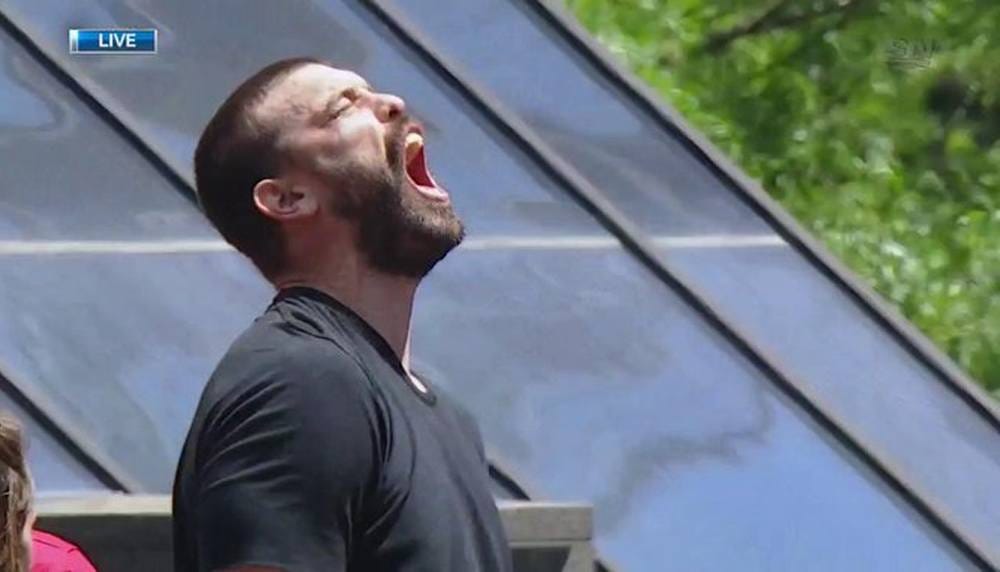 ---
Whether you're reading this in your inbox or on the web, giving us a "like" by tapping the heart below helps Oddball get attention from more non-subscribing Substack users, which in turn leads to more subscriptions, which is certainly better than fewer subscriptions.