Business as usual
COVID-19 or not, the sports world continues apace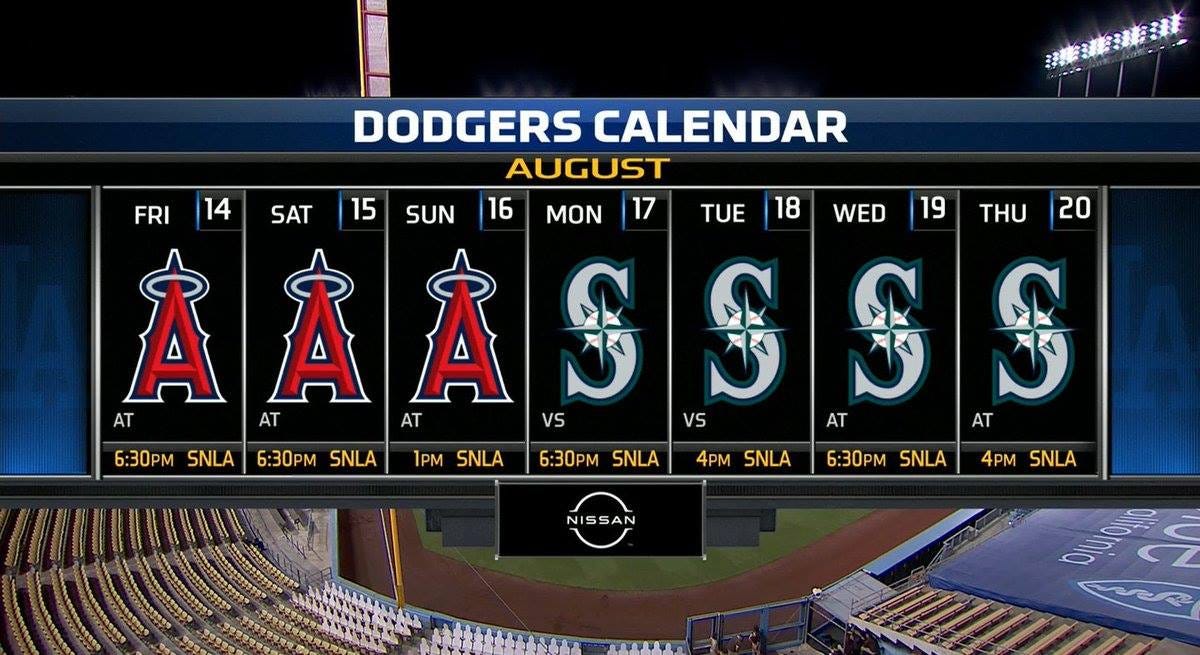 COVID-19 aside, it's not a bad time to be a sports fan. The NHL and NBA Playoffs are trundling along within their respective bubbles. The MLB season has been as good as could be expected given that baseball is a slow game punctuated by big moments made even bigger by the crowds that literally can't be in the stands — but hey, at least Fernando Tatis Jr. and Juan Soto (whose ages combined are the same as my age, which makes me feel like a fossil of a fossil) are becoming superstars in front of our eyes and our baby Blue Jays are more than holding their own (14-13 as of this moment). The NFL is also a sports league, albeit one whose main purpose is to get old guys to buy boner pills and young guys to enlist in the military, but that's a different conversation for another day, and hey, at least fantasy football is fun because you can name your team stuff like Waka Flacco Flame. — DJ
#warmup
What's your favourite NBA team's worst trade of the past decade, according to Bleacher Report? (You can skip this one Oklahoma City Thunder fans, you already know what it's going to be.)
By way of their "Field to Table" service, the Texas Rangers are delivering crummy and wonderful ballpark fare to people's homes. They should do a thing where if you pay extra, Sam Dyson will serve it up for you to demolish.
Zack Greinke threw a 54mph eephus pitch and it was glorious.
Lionel Messi wants out of Barcelona, and it'll cost would-be suitors €700 million.
#sebastianjaniquizki
Seven players in NFL history have rushed for more than 2,000 yards in a season. Of those seven, four are in the Hall of Fame and two aren't yet eligible for the Hall of Fame. Who's the other player?
#stumpyclapp
Five active pitchers have struck out 300 or more batters in a regular season. Of those five, which pitcher has the highest total for an individual season?
#quizdrury
Who is the highest drafted Muslim in the history of the NHL Entry Draft?
#marcussmarts
Damian Lillard recently scored 50+ points in consecutive regular season games. At 6'2" he is the second-shortest player ever to do this. Who is the shortest?
#scoutingreport
Swinging in a 3-0 count should not be against any rules, no matter the score.
— in which Collin McHugh weighs in on Fernando Tatis Jr.'s grand slam on a 3-0 pitch and baseball's dumb "unwritten rules"
Unwritten rules only work if everyone knows the unwritten rules. By their very definition, nobody knows an unwritten rule, so what you have now is you're trying to make a decision that a 3-0 count in a seven-run game is off limits. I'm just not with that at all.
— in which Ron Darling weighs in on Fernando Tatis Jr.'s grand slam on a 3-0 pitch and baseball's dumb "unwritten rules"
Sometimes you have teammates, and it is for that period of time. But that's okay. You can wish each other well going forward. It doesn't mean you have to be kumbaya, and it doesn't mean you have to be enemies. At the end of the day, everybody's got a life to live.
— in which Chris Paul talks about his non-relationship with James Harden
#sebastianjaniquizki [answer]
Jamal Lewis rushed for an astounding 2,066 yards for the Baltimore Ravens in 2003. Also: he has exactly 3,000 more career rushing yards than Terrell Davis, who rushed for 2,008 yards in 1998 and was enshrined in the Hall of Fame in 2017.
Unlike Lewis, Davis didn't spend time in prison in the middle of his career; unlike O.J. Simpson, who rushed for 2,003 yards in 14 games (!) in 1973, Lewis didn't murder anyone.
#stumpyclapp [answer]
Gerrit Cole punched out an astounding 326 batters in 2019, but, to be fair, a lot of those batters were Texas Rangers, who are an AAAA team. Oddball wishes Cole nothing but terrible luck as a Yankee.
#quizdrury [answer]
Nail Yakupov, drafted first overall by Edmonton in 2012, will be remembered as one of the biggest busts in NHL history. Over the course of a disappointing NHL career for Edmonton, Colorado, and St. Louis, he tallied only 136 points in 350 games. He will also be remembered as the highest-drafted Muslim in NHL history: when he was taken #1 overall in 2012 the ethnic Volga Tatar surpassed the achievement of Nazem Kadri, who was taken #7 by Toronto in 2009.
#marcussmarts [answer]
Not a 50 point game, not a 50+ point game — we talkin' 'bout multiple 50+ point games. Allen Iverson (6'0" in shoes) scored 54 and 51 points in December, 2004. We often think of Bubba Chuck as a volume shooter (because he was), but he managed to shoot over 58% in each of those two games.
#postscript
Oscar Wilde once wrote that there are two great tragedies in life: not getting what you want, and getting it. We've been thinking about that a lot within the context of the Raptors first-ever playoff matchup against the Celtics. We get a lot of joy out of shouting "Fuck Boston" — as we should, and as you should also, because, like, fuck Boston — but we also give respect where it's due, even if it physically pains us to do so. It's going to be a hell of a series.
As some of you know, we have created a sports trivia game concept and we're currently doing some testing. If you're interested in helping us out, please join this Facebook group and fill out this Google Form. And, as always, forward this issue to any friends, enemies, or frenemies you think would enjoy it. A subscriber to Oddball is a subscriber to anarchy, but, like, the good kind.
Also: many thanks also to Sebastian Janikowski, Stubby Clapp, Chris Drury, and Marcus Smart for being named their names.
Also: click on the heart. It's good for your soul.
DJ/JY